From data's role in decision-making to the machine learning of tomorrow: What it all means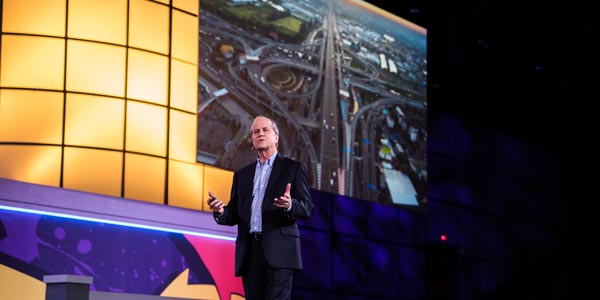 Make no mistake: There is no technology that will allow your fleet to manage itself. Just as a driverless truck likely won't be seen within our lifetimes, there won't be a magical "manage my fleet" button to push so that you can sit back and monitor data dashboards. Technology might make fleet management more efficient, but it rarely makes it easier. So when we talk about telematics, remote diagnostics or the "machine learning" algorithms that will enable predictive maintenance solutions in the near-term, remember that these systems enable you to make smarter decisions; they don't make those decisions for you.
"When I think of analytics," began Thomas Fansler, president of Trimble Transportation Mobility (pictured above), "if you go from basic reporting to a business intelligence dashboard, which brings machine learning and a number of other advanced analytics techniques—you're distilling all the data and complexity into information that is more consumable. For example, trucks traveling down the road are generating data points, and the business intelligence solution can say, 'Hey, there's something going on with your vehicle that you need to know about.' It does not require somebody to wait until the truck comes into the bay. It's happening all the time as that vehicle moves. To me, that's where our industry's really changing."
Trimble is on the front lines of change. Last month, the company announced that its PeopleNet, TMW and 10-4 Systems businesses are transitioning to the Trimble brand. It's a transition that literally shows how today's data-driven software solutions are integrating—truck telematics and diagnostics can weave in and out of service and logistics data behind the scenes, allowing you to simply see the solution.
"At the end of the day, our customers want end-to-end solutions that really allow them to transform how they do their business, to allow them to be best in class," Fansler said. "If you look over the last couple of years, one of the reasons that Trimble brought these properties together was because of the opportunity to create unique technology synergies, and I think that has been going on with the teams behind the scenes, and some of the things you saw announced at this year's [in.Sight] conference are a reflection of some of that at work."
The announcements were numerous to be sure. Here are just a few:
Increased connectivity, deeper integration, impacting equipment operational practices, and the echoes of the ELD mandate were all talking points for Fansler when I caught up with him shortly after the Trimble announcements were made. So here's what Fansler had to say about…
What fleet-owned data means to service providers
"We recognize we live in a world of 'co-opetition.' At the end of the day, our customers decide what they need, and we're going to continue to support those decisions. That means making data accessible to integrations. If we do our job right, I think our customers will say, 'Hey, integrated Trimble applications deliver more value, and that's the direction I want to go.' But we also respect and understand that our customers might choose other applications.
"We also have to be very careful to respect the access limitations placed on vendors—meaning what access is granted based on customers' wishes. When a customer wants to provide a vendor access to one data set, we need to be sure they're not inadvertently providing it for somebody else."
The evolution of technology providers in a post-ELD mandate world
Editor's note for a bit of context: Leading up to the ELD mandate that went into effect late last year, there was an explosion of ELD solution providers who entered the trucking industry. Some had proven track records within the industry, some didn't. If your email inboxes were like the Fleet Equipment editorial inboxes, it was hard to keep track of the new names offering ELD solutions. I asked Fansler for his take on today's post-ELD mandate climate:
"I think there is an important line that we should draw. If all you're doing is buying an ELD client solution to meet the minimum standards to comply with ELD or even under the AOBRD grandfathering clause through the end of next year, that, to me, is a different level of integration than somebody who wants to integrate an ELD solution with a service solution or routing system or payroll system.
"The vast proliferation of new ELD vendors were in the client solution space, and I think you're seeing a shakeout. That's not to say that all of these companies exited the space, but I do think many of them never reached their intended subscriber base. Many of the point solution ELD providers that didn't achieve their subscriber objectives are exiting or selling their business. Additionally, fleets that thought they just wanted an ELD solution are realizing that, maybe, it's not doing everything they need and are also asking if they're seeing a return on investment for their monthly subscription or would they be better off investing in an alternative that provides greater return.
"I don't see the disruption from below. I actually see it as much from above and just the natural sort of Darwinian selection process that goes on when you flood the market with too many product entrants."
Trimble's relationships with the OEMs
"It's certainly possible that you're going to see more partnerships happen in the OEM space. There's a logical partnership between industry that provides aftermarket services to the transportation industry and the OEMs that are critical to supplying the assets that the fleets operate. I think you're seeing different strategies for how OEMs are going to seek to adopt that, whether they own the box, whether they partner for the box, whether they make space available, etc.
"There are different approaches, and over time the industry will settle on a couple of certain dominant themes. That process is still in evolution as to what the right recipe is between owning and partnering on the hardware and the software."
Not overlooking the small-scale technology shifts
"We could talk about automated driving and other macro themes, but in the short term, we know that the CDMA networks are going to start going dark after next year and see service degradation. If you're a fleet that's running 3G technology, that's something you need to start being concerned about because you've got a transition to make. Same goes for the transition for fleets that are still operating under AOBRD, which, with the grandfather clause [in the ELD mandate] they have that option, but they're going to need to transition by the middle of December next year to ELD. That involves training, and it may involve hardware updates and software updates.
"Over the next 15 months, I think those two themes to note are the transition to a fully ELD compliant state; and fleets' future proofing with LTE technology before the degradation of the 3G networks."
Big-picture trends and predictive technology
"Let's talk about some of the macro trends that are tough for the industry right now: Urban miles are up almost 18%, rural miles are down, and one of the consequences of that is congestion is up. In 2015, congestion jumped from .18¢ a mile to .23¢ a mile, 2014 to 2015. Add in that we know that one of the consequences of the hours of service regulations is putting more drivers on the road during peak hours. And we know it's really tough to get drivers.
"There's never been a time in our industry where forward-looking planning and optimization have been more important, because we have to wring every bit of efficiency out of that ecosystem in a driver resource-challenged environment and also when the roads that we operate on are increasingly congested."