The growing benefits of video telematics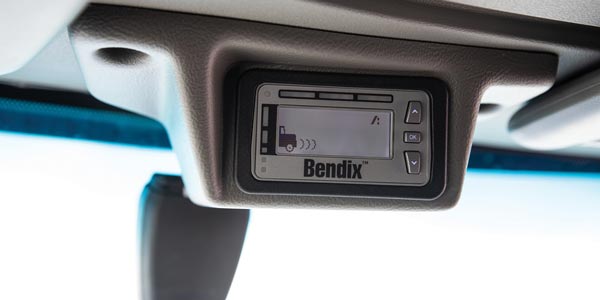 The true benefit of telematics is to see things you couldn't see before. Whether that's exact numbers and data or blind spots on the road, what telematics provides is insight and visibility into what's going on with your fleet. And what could provide more visibility than cameras?
Today, many fleets are making use of video telematics programs, which incorporate a series of cameras, including front-facing, driver-facing, and side-view and backup options, depending on the fleet's preference. The typical program records video and sends it to the fleet if a certain parameter set by the fleet is hit (for instance, a hard braking event), allowing the fleet manager to see exactly what happened.
RELATED: Read about the pros and cons of driver-facing cameras here.
Let's run through some of the options that are available.
The Bendix video solution is called SafetyDirect, a web portal that integrates with the cameras from Bendix's advanced driver assistance systems (ADAS) such as Wingman Fusion and is available pre-installed from each of the major OEMs. According to Brendan Buzer, product manager for Bendix Commercial Vehicle Systems, this integration is what makes their video solution unique.
"We use our proprietary vehicle triggers based on events from the safety systems on the vehicle, such as collision mitigation braking, to trigger video events based on what is happening on the vehicle," Buzer explained. "We partner with telematics providers to offload the video and event data via the vehicles existing telematics system to our web portal, SafetyDirect. SafetyDirect users are able to view driver scorecards where classified videos highlight drivers displaying risky driving behavior. The event videos are combined with additional vehicle and Bendix sensor information providing a clear picture of the incident that occurred."
The Lytx in-cab video program, DriveCam, works with the fleet to set certain parameters (whether you want 12- or 20-second video clips, what events trigger the video, etc.) to automatically send video clips to the fleet manager when a parameter they've chosen is hit.
"Sensors in the event recorder identify when an unusual driving event, such as hard braking or hard cornering, is occurring," explained Kristin Costas, director of product management at Lytx. "There's also machine vision in certain models. If the driver departs from their lane or maintains poor following distance, we'll capture a short video clip. Then, one of our professional analysts will review all that video to identify observable behaviors within the event such as whether the driver's wearing their seatbelt or whether they had appropriate reaction time. All of that is delivered to the customer in a package that allows them to have a meaningful conversation with the driver, through our prescriptive coaching workflow."
Going further is Lytx Video Services, which records continuously from the road-facing camera. Costas said this service enables fleets to "take video beyond safety and look at things like operational efficiency or productivity."
"The users can go in and grab video from any point in time that they might be interested in," she elaborated. "Some of the use-cases that we've seen are that fleets use this for proof-of-delivery—we've heard refuse fleets say they've been able verify service like whether the waste bins were out when they came to collect them; verifying falls and injuries around the vehicle; and extended insights into safety. If a clip wasn't enough for the fleet to see what happened, then they can use our platform to pull more video from before and after the event."
Omnitracs' video solution is known as Critical Event Video (CEV), and supports in-cab, outward and optional inward-facing cameras.
"The CEV solution is tightly integrated with Critical Event Reporting [CER] to allow retrieval and viewing of events triggered by CER such as hard braking and activation of onboard safety systems such as roll stability, lane departure, forward collision warning and following time distance," explained Drew Schimelpfenig of the Omnitracs Safety Center of Excellence. "Video is available within minutes of the triggered event or request. DVR functionality allows you to request video for a specific date and time, regardless of whether a CER-triggering event occurred. Prequel and sequel features allow you to add clips before and after any existing clip to build a complete timeline. CEV is extremely configurable; you decide what types of events trigger video, how much video to include with each event, how long it should be preserved and which users have what access."
SmartDrive offers an eponymous camera-based program, which runs off of a series of sensors in the truck that assess how the vehicle and driver are performing. Video is triggered when a high-risk event—such as a U-turn, speeding or hard braking—is detected. Video and sensor data is sent to a SmartDrive driving analyst who reviews the video and adds to a driver performance portfolio, which is used to identify high-risk driving behavior and assign a driving safety score based on risk profiles configured for the specific requirements of each fleet. SmartDrive also offers an extended program called SmartDrive 360 with Extended Recording.
"Triggering up to four cameras simultaneously based on high-risk maneuvers, SmartDrive 360 provides better insight into frequent causes of collisions," said Jason Palmer, chief operating officer for SmartDrive. "The Extended Recording service offers 'never-miss' protection, ideal for low impact collisions, compliance and security incidents. This capability pairs exception–based recording with optional DVR-like recording functionality, providing full situational context to fleet managers."
Trimble (formerly known as PeopleNet) offers the Video Intelligence solution, which is a four-channel DVR that gives the customer the chance to choose four cameras they wish to use—including forward- and driver-facing cameras as well as backup, right and left side cameras that can be used to monitor blind spots, and come up on Trimble's in-cab display.
The camera records all of this information and stores it within 64 GB of storage, which usually covers roughly 170 to 240 hours of footage. According to Jim Angel, vice president of Trimble video intelligence solutions, this is used to store additional information beyond the event-based triggers that are sent to the fleet.
"Event-based triggers go to the fleet automatically," Angel elaborated. "When the ECM creates a deceleration rate that the customer sets within our system—for example, 12 MPH per second deceleration, known as a hard brake—that triggers a sudden stop event, which collects ten seconds of video before and after the event. We send those automatically in real time to the carrier through our web portal that day.
"The storage," he added, "would be for our on-demand requests. Let's say that a carrier wants to investigate two minutes before a particular incident rather than 10 seconds. They can get those two minutes of footage and match that up to the incident to see if the driver was possibly fatigued, did he engage in a bit of road anger with another vehicle something like that—that's how the on-demand can be used."
The carrier chooses these settings themselves. "We're not triggering a video unless the truck and driver are doing something that causes the ECM to match up with the criteria that the carrier sets," Angel said. "They can set up sudden deceleration, sudden acceleration etc. And we are also integrated with all the third-party ADAS systems that provide collision mitigation, headway monitoring, roll stability—we get those triggers across the J1939 CANbus as well, and we provide 20 seconds of video for each one of those events also."
The ROI factor
This technology is cool, but you may be thinking, 'What does it do for me?'
The video technology providers universally agreed that exoneration from wrongdoing in a legal case is by far the biggest source of ROI for fleets.
According to a survey of SmartDrive customers, nearly 70% of fleets using a video-based safety program find exonerations to be the biggest benefit. The company shared that many fleets surveyed stated that the savings on litigation from one collision offset the cost of the service for the entire fleet for one year.
"I love telling the story about a 94-truck auto hauler out of Jacksonville, Fla., who installed one of our units two days before a particular incident," Trimble's Angel relates. "In this case, their driver rear-ended a car and, without the video, you would never have known exactly what happened. Generally speaking on a rear-end collision, that's when the carrier and the driver are going to be held responsible for that damage, and it's almost an automatic check. In this case, they found that the driver of the car handled his car recklessly while trying to pass the truck, and the truck had nowhere to go. The video proved this, and they were able to use this to exonerate the driver and eliminate him from financial responsibility."
In many cases, Angel noted, it's not just about sparing the driver and the fleet from financial responsibility, but about keeping the driver in the seat, as a costly accident is often grounds for termination for drivers. There are other benefits as well, which are hard to prove in the short-term but go a long way toward helping your fleet in the long-term.
"You start to establish this culture of safety where you're utilizing the video and the coaching tools and making that available to your driver," Angel said. "And that's where you find out that even your senior, two-million-mile accident-free guys have established some bad habits that they didn't really pay attention to until they could visually see it."
"For some customers, the ROI will be seen over a longer course as a result of a reduction in incident frequency that leads to accident avoidance," Omnitracs' Schimelpfenig said. "For other fleets, the ability to exonerate their driver for a single catastrophic non-preventable, no-fault accident produced enough cost avoidance savings to justify the expense for in-vehicle video immediately. Whether the fleet's goals are to reduce accidents or defend an already effective safety culture, the ROI is definitely there in both hard and soft benefits."
Related stories:
The future of video telematics for trucks