OEMs are bringing safety technology to medium-duty trucks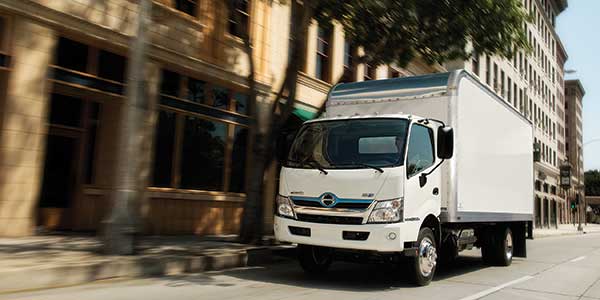 "Safety is a top priority," says Dominik Beckman, director of marketing and dealer operations at Hino Trucks. "While fleets are doing everything feasible to protect the safety of people, the latest advancements in safety systems technology have reached the point that solutions for medium-duty trucks are robust and market-ready."
Jorge Medina, director of marketing at Peterbilt Motors Co., says that the ability to offer versatile vehicle configurations with advanced safety systems provides fleets with products that fit their individual needs and transcend safety standards. "We offer safety benefits in multiple medium duty-segments," Medina says, "and fleet customers report that they are realizing reduced operating costs in relation to the installation and use of advanced safety systems."
One example of a safety features available on Peterbilt medium-duty models, Medina notes, is the RollTek seat, which reduces the potential for bodily injury in a rollover scenario. "As safety continues to be a priority for fleets and drivers alike," he adds, "we will offer innovative advanced safety systems to give them peace of mind while keeping others on the road secure."
Peterbilt and Kenworth both recently made the Bendix Wingman Advanced system available on medium-duty models. The collision mitigation technology that improves safety and integrates with the Bendix ESP full stability system can be ordered on Peterbilt Models 337 and 348 and Kenworth T270 and T370 medium-duty trucks.
Mitigating collisions
The Bendix Wingman Advanced radar-based collision mitigation system uses a radar-based sensor to help drivers maintain safe following distances and to detect stationary metallic objects regardless of darkness, fog, rain, smoke and snow. The system utilizes a combination of adaptive cruise control with braking along with autonomous emergency braking technology to help drivers mitigate rear-end collisions.
When a potential hazard is detected, Bendix Wingman Advanced gives the operator an audible warning and displays the warning on an in-dash module that is also the driver interface with the system. When the cruise control is on, a desired road speed is set and the system determines that a collision is imminent, the adaptive cruise control feature automatically engages the throttle, engine retarder or foundation brakes to maintain a safe following distance.
"This proven technology is popular with Class 8 fleet customers, and now medium-duty truck operators can specify the system to help avoid collisions not only on highways, but also in urban driving conditions experienced by medium-duty truck operators," said Kurt Swihart, Kenworth's marketing director.
Mitsubishi Fuso will add Mobileye's collision avoidance system to all of its 2017 model-year Fuso FE and FG Series medium-duty cabover trucks. The system will initially be provided free of charge on all 2017 chassis-cabs to build interest among fleets.
Proactive approach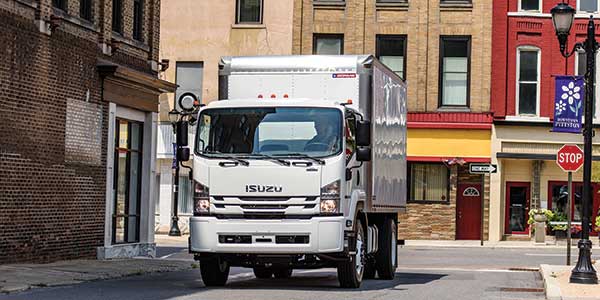 At Hino, notes Beckman, aftermarket options that improve safety such as exterior video monitoring systems are available while the Hino INSIGHT platform provides for a proactive approach to operating and maintaining vehicles as safely as possible. Now standard on 2017 Hino model year trucks, Hino INSIGHT provides real-time connectivity through INSIGHT Telematics, INSIGHT Remote Diagnostics and INSIGHT Case Management.
"The fully connected vehicle solution also provides fleets with a tool for training drivers to operate the vehicles safely by reviewing data on things like hard braking and speeding," Beckman adds. "We also require our dealers to have trained service technicians who complete multiple courses annually at our corporate training centers. Our trucks' safety systems are included in those courses."
Brian Tabel, executive director of marketing at Isuzu Commercial Truck of America Inc., notes that the manufacturer helps fleets train drivers to safely operate vehicles by providing a DVD with each truck along with an online driver orientation video. In addition, the company's fleet and district managers and dealer salespeople conduct driver training on the safe operation of Isuzu trucks.
Adopting technologies
OEMs are recognizing the industry's need for safety in medium-duty commercial vehicles, relates Peterbilt's Jorge Medina. "We are not able to communicate all the details at this time," he says, "but we see the industry adopting more safety technologies that are found in the car market today."
"A lot of car features that have emerged over the last few years are more than likely to be brought to medium-duty trucks," Isuzu's Tabel says. "We have seen that change developing in the medium-duty market and feel it will continue in the coming years."